Larne Grammar School pupils kick off the first 'Science Summer School' event
Thursday 2 November 2023
Pupils from Larne Grammar School had the opportunity to find out more about local firm Kilwaughter Minerals - which produces innovative, high-quality products for the construction and agriculture sectors – at a recent tour of their headquarters.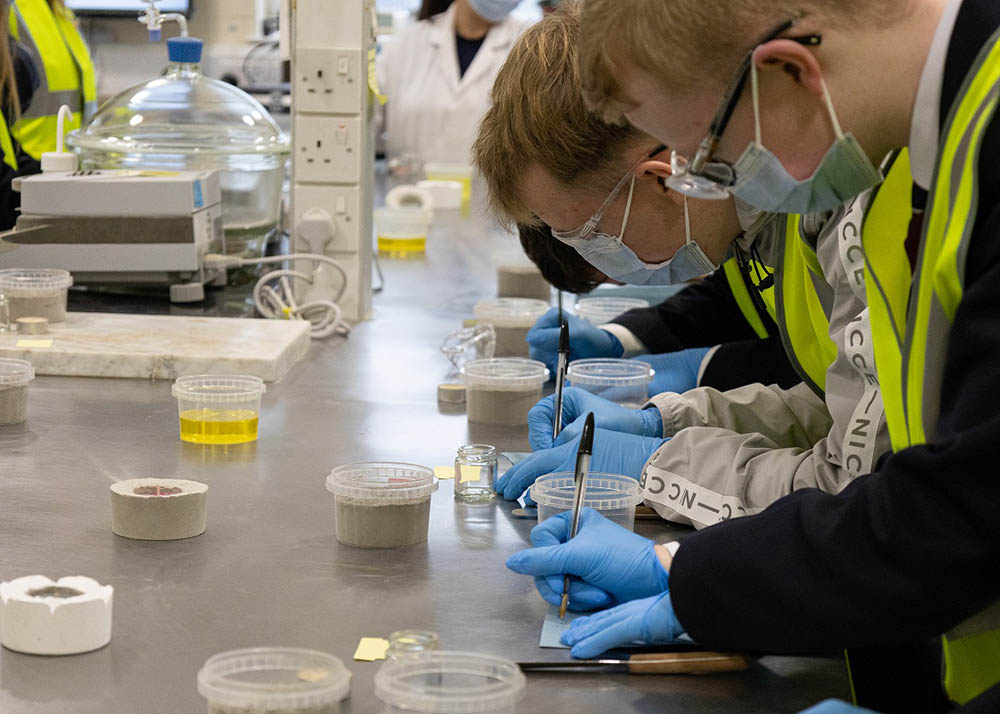 The visit was organised through the Manufacturing Task Force as part of 'Science Summer School' - a STEAM Initiative that is being hosted in Northern Ireland for the second time at The Braid, Ballymena in January 2024.
During the visit, the students had the opportunity to learn more about what makes a major manufacturing company work. The tour of the manufacturing plant included an insight into product development, R&D, business development, quality assessment and quarrying.
The tour kicked off the start of the autumn engagement activities planned under the 'Science Summer School' initiative of which Kilwaughter Minerals are the headline sponsor. Through such engagement activities 'Science Summer School' aims to inspire young people to become the next generation of scientists with a programme that mixes the best of STEAM (Science, Technology, Engineering, Arts and Maths) through a series of seminars, discussions and hands-on experiments.
Kilwaughter Minerals is a key employer in Mid and East Antrim and has continued to invest in its headquarters and surrounding environment. The company prides itself on its continued commitment to Larne and the wider area, the ongoing engagement with young people and the investment in the local community which is a key pillar of its ESG Strategy.
Mid and East Antrim Borough Council are committed to developing skills in the Borough and exploring new initiatives with local employers to enable a seamless transfer from education into work.
Graham Whitehurst MBE, Chair of the Manufacturing Task Force (MTF), commented: "The MTF is an industry-led initiative which supports and stimulates the area's manufacturing and engineering sector. Kilwaughter Minerals is one of our MTF members who have a primary focus on implementing skills initiatives to ensure a pipeline of talent in this sector.
"This visit allowed students to directly engage with a key employer in the area and thus support future skills needs and provide an opportunity for companies to help drive recruitment into our Borough's advanced manufacturing sector."
Fiona Byrne, Organisational Development Director for Kilwaughter Minerals, said the firm's expansion in recent years meant it had to 'grow in scale and scope' which in turn necessitates talent. She explained:
"It is through first-hand experiences such as this that will help educate and inform young people across the Borough of the many opportunities available in the manufacturing sector - roles which include engineering, research and development, sales, marketing, human resources, quality control and production.
"We look forward to welcoming more schools to our organisation to show the students first-hand the broad variety of career options available within a manufacturing organisation".
The 'Science Summer School' initiative is funded by the Labour Market Partnership. Headline sponsor is Kilwaughter Minerals and local company sponsors Ryobi, Terumo BCT, IPC Mouldings, Yelo, Caterpillar and Michelin Development.
If you would like to learn more about engagement opportunities in the Borough contact amplify@midandeastantrim.gov.uk or call T: 028 2563 3190 or visit the Invest MEA website for information on the Manufacturing Task Force.