Mayor gets on his bike for business
Wednesday 14 March 2018
As part of a series of visits to Mid and East Antrim businesses, Mayor Paul Reid, visited Mango Bikes, based at LEDCOM's Willowbank Business Park facility.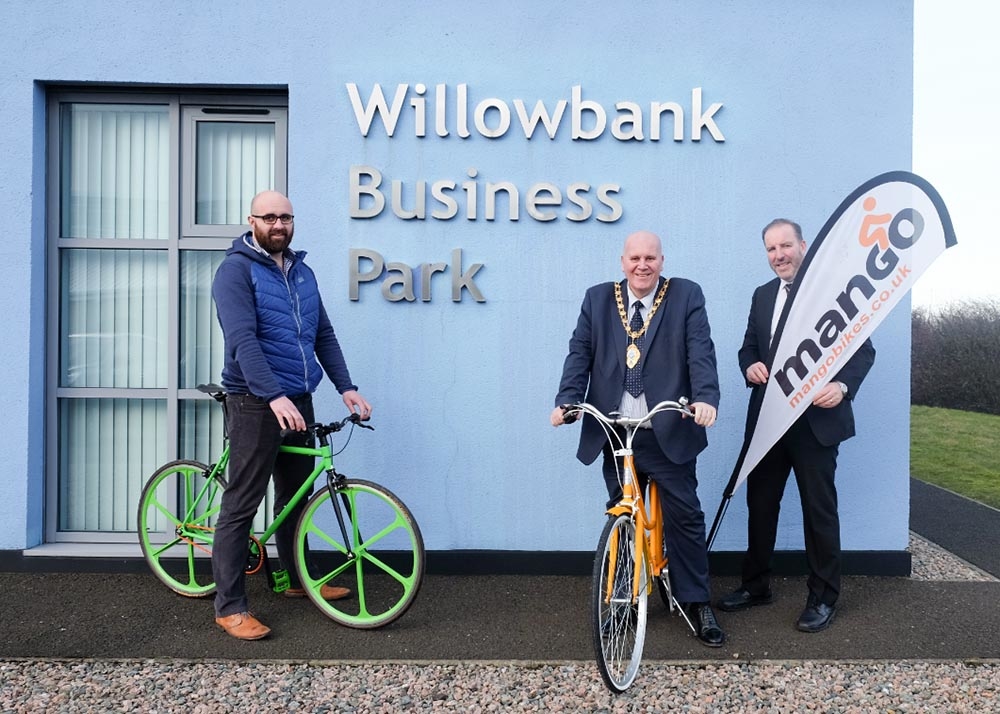 The Mayor met the owner of Mango Bikes, Andrew Hassard and heard at first-hand how the specialist bike manufacturer has made significant progress with virtually all its bikes exported outside Northern Ireland.
Councillor Reid said, "As well as being home to major employers, Mid and East Antrim Borough Council is committed through its Amplify Strategy to doing all it can to boost the small business economy in the region. It's exciting to meet dynamic entrepreneurs like Andrew who are so vital to our economic future."
Andrew Hassard started in the bike industry with Chain Reaction Cycles and later worked for Planet X Bikes and Go Outdoors where he developed a range of branded and own-brand bikes, parts and accessories.
An enthusiastic cyclist and triathlete, Andrew decided to locate his company at Willowbank Business Park outside Larne in the Mid & East Antrim Borough.
Andrew said, "The combination of great facilities at Willowbank Business Park backed by an excellent business support team at LEDCOM was a key factor for me when deciding where to locate Mango Bikes. I've also benefitted from participation in a range of Council support programmes such as KickStart.
"We build bespoke bikes for commuting, students, meeting friends for a coffee or just cycling with the kids along a tow path. Mango bikes should be smile makers – from purchase through building to delivery and the first ride."
For more information go to the Amplify website.