Mayor hails work of local foodbanks and pays tribute to generosity of Mid and East Antrim residents
Thursday 1 November 2018
Big-hearted volunteers behind foodbank services in Mid and East Antrim have been praised by the mayor.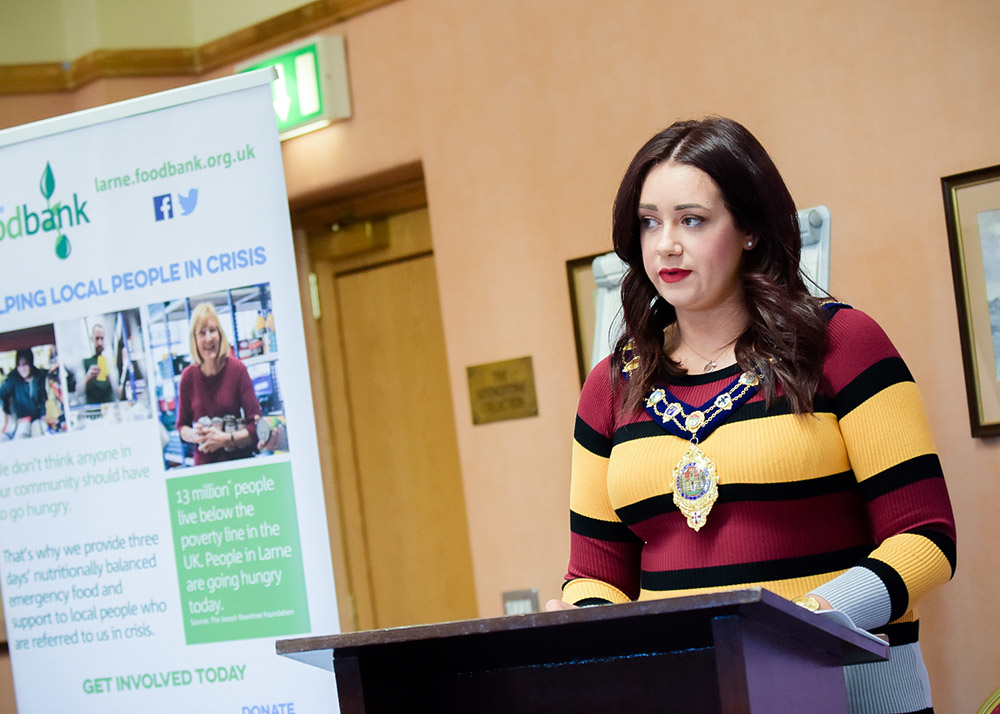 Councillor Lindsay Millar welcomed charity workers to the Dobbs Room in Carrickfergus on Tuesday for an information session on the vital work carried out throughout the area.
The Mayor said: "Larne and Carrickfergus Foodbanks are part of The Trussell Trust's UK-wide foodbank network, which helps local churches and communities to open foodbanks.
"As many of you may already know, Larne and Carrickfergus foodbanks provide emergency food and practical support to local people and families in crisis.
"Sadly, for many reasons, people can find themselves in a crisis situation where they struggle to put food on the table - sometimes forced to choose between buying food or paying rent.
"In these crisis situations, and through a referral system, foodbank can step in to provide three days' nutritionally balanced food, offering a lifeline of hope in the most difficult of circumstances.
"There is a role for all of us to play in the foodbank initiative and today is about helping us to realise and understand what our role might be.
"Perhaps you represent an organisation or group in the local community who can provide a regular collection point for people to donate food?
"Maybe your role is to be a food donator at one of the various collections points throughout the borough?
"Are you a frontline professional who comes into contact with people in crisis?
"If so, then maybe you could be someone who hands out vouchers to people in crisis.
"Or maybe you're in a position to sign up and help out as a volunteer at one of the local foodbank distribution centers across Larne and Carrickfergus?"
The Mayor added: "I would take this opportunity to say a huge thank you to the many volunteers, donators, groups, churches, organisations and people who are already contributing to the foodbank network in Mid and East Antrim.
"Your commitment and service to your local community is invaluable and recognised by council.
"Putting People First is Mid and East Antrim's first Community Plan, and has the vision of a strong, vibrant, safe and inclusive community.
"Putting People First is about working in partnership with others to help make things better.
"I am sure you will agree with me when I say that the Larne and Carrickfergus Foodbank initiative is a wonderful demonstration of working in partnership for the greater good of our community.
"It is humbling to see our local community show such passion and commitment for their area, and for the people who live within it."