Mayor praises success of Caterpillar during a recent visit to its Larne-based facility
Monday 16 April 2018
Mayor of Mid and East Antrim Councillor Paul Reid praised the innovation of Caterpillar and its contribution to the surrounding community during a recent tour of its manufacturing plant in Larne.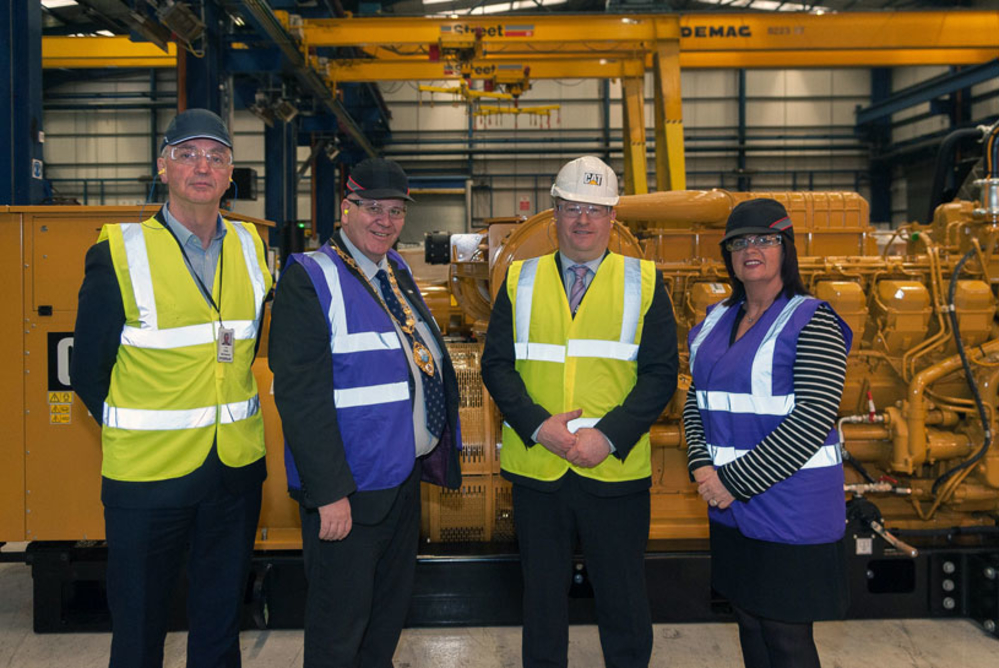 Founded in 1966, Caterpillar (NI) Limited is Europe's largest diesel generating set manufacturer.
In Northern Ireland, the company's Electric Power operations are based in Larne, where final assembly and fabrication of the product takes place before export around the globe.
The Mayor said: "Mid and East Antrim is traditionally recognised as the manufacturing heartland of Northern Ireland, with significant strengths in advanced manufacturing, accounting for one in five jobs in the region.
"This reputation has been developed thanks to the investment of successful global companies such as Caterpillar, who have benefited from the high-level manufacturing skills available within Mid and East Antrim.
"The strategic location of Mid and East Antrim means that it also benefits from good transport infrastructure.
"With its close proximity to both Belfast International and Belfast City airports, as well as Belfast port and the port of Larne, it makes it a very easy location for global companies such as Caterpillar to do business.
"Caterpillar and the Council enjoy a strong working relationship and we look forward to building on that through the Manufacturing Task Force.
"With the strategic direction provided by Amplify, the economic development strategy for Mid and East Antrim, along with the commitment and dedication of members of the Manufacturing Taskforce, we are already making steady progress to ensuring we maintain our reputation as the manufacturing heartland of Northern Ireland."
The Manufacturing Task Force, chaired by manufacturing expert Rose Mary Stalker, who has 25 years' experience working with multinational firms, is committed to protecting the Borough's economy, build on its existing strengths, identify opportunities for growth and improve Mid and East Antrim's competitiveness.
It will bring together key stakeholders to help define a bold and new agenda for action as Mid and East Antrim looks to rebalance itself economically and provide a strong platform for economic growth and job creation.
With the consultation phase entering its final stage, the first Manufacturing Task Force workshop to share issues, ideas and recommendations, will be held at ECOS on Thursday 19 April.
For more information and to find out how you can get involved in the work of the Manufacturing Task Force, contact Rose Mary Stalker at:

E: ChairMTF@midandeastantrim.gov.uk or any of the Economic Development Team at Mid and East Antrim Borough Council.
To find out more about the business programmes offered through Amplify visit the Amplify website
Image: L-R, Mr Enda McKeever – Technical Services Manager, Caterpillar (N.I.) Ltd, Mayor of Mid and East Antrim, Cllr Paul Reid, Mr Mark McClure – NI Operations Director, Caterpillar (N.I.) Ltd, Ms Karen Hastings – Investment and Place Manager, Mid and East Antrim Borough Council