Mayor's praise for "inspirational" 11-year-old's big-hearted Valentine's Day charity fundraiser
Wednesday 14 February 2018
The Mayor of Mid and East Antrim, Councillor Paul Reid, has hailed an Ahoghill schoolgirl after the 11-year-old hosted a Valentine's Day fundraiser in aid of homeless and vulnerable children.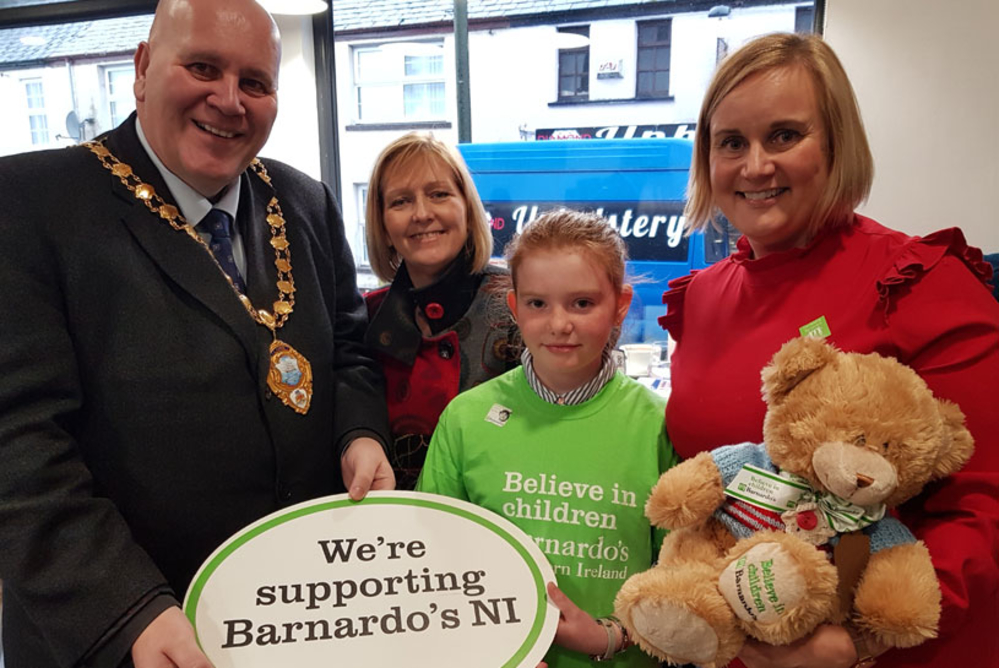 Catherine Waring, a pupil at Fourtowns Primary, was deeply touched when she learned of the plight of some other children while working on a school project.
And she committed to doing what she could to raise money for those youngsters in need of urgent assistance and support.
She contacted Barnardo's Northern Ireland and pledged to back their vital work with children and the range of support services they provide to families throughout the region.
Catherine then teamed up with Carole Reid, owner of Kitchen 16 coffee and tea house in Ahoghill, who was delighted to help.
Catherine's Charity Coffee Morning took place on Wednesday, with the Mayor of Mid and East Antrim among the guests, under the theme of LOVE the Children, Support the Children.
Speaking afterwards, Cllr Reid said: "It was a huge honour to attend Catherine's coffee morning in aid of a charity extremely close to my heart.
"Catherine is an inspirational girl and she has also demonstrated maturity well beyond her tender years in delivering this excellent event.
"A special thank you also must go to Carole for her support, which included an excellent raffle, and all those who made donations to this vital cause.
"Well done again to Catherine and I know the money raised will make a real difference to young people in need.
"It will support the incredible work carried out by the charity and the invaluable support it provides."
Catherine was joined by relatives, neighbours, school pals and their parents.
Donations were collected at the event and a fundraising page has been opened for all those who wish to support Catherine's efforts.
To find out more or make a donation, visit JustGiving.
Catherine's dad, Chris, added: "All donations will be well received and will not only help lots of children associated with the charity Barnardo's, but it will certainly put a smile on the face of a very motivated, inspired and determined young lady."
IMAGE: Mayor of Mid and East Antrim, Councillor Paul Reid, pictured with Mayoress Carol Reid (not Carole Reid mentioned above), Catherine Waring, and Anne Dawson from Barnardo's