New video to help victims of sexual violence
Wednesday 10 October 2018
A new video to help victims of sexual violence has been launched in Mid and East Antrim.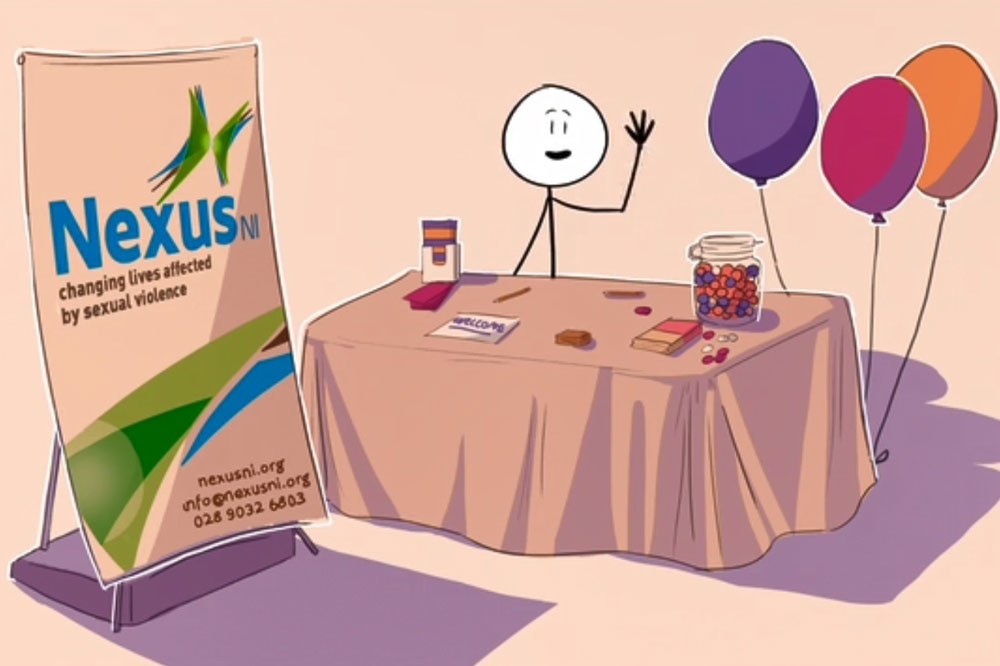 Mid and East Antrim Policing and Community Safety Partnership (PCSP) have teamed up with Nexus NI to produce and launch an animated video showcasing the organisation's services.
The video, 'Who is Nexus?' explains what the organisation does to help victims of sexual violence. Nexus NI offer services and support to people who have been affected by sexual violence in any form across Northern Ireland. They provide counselling, training, education and support.
It's hoped that by raising the profile of what Nexus NI can do to help, it will encourage more people to use their services, helping more victims of sexual violence.
Nexus NI and Mid and East Antrim PCSP launched the video in a special event in The Braid. The animation is being shared with key stakeholders including Northern Health Trust, The Northern Domestic and Sexual Violence Partnership, PSNI and Youth Justice Agency. It is also being rolled out across social media.
Cara Cash, Chief Executive of Nexus NI said: "I'm delighted to be here today at the launch of our new video in partnership with Mid and East Antrim PCSP. In the last year we delivered 17,000 counselling sessions to people affected by sexual violence. Despite demand for our services being at an all-time high, unfortunately, sexual violence still remains very much a taboo subject in our society.
"This video will help play a vital role in raising awareness of the wide-ranging specialist work being carried out by Nexus NI, through things like this video and our partnership work, we will continue to work on breaking the silence."
Cllr Paul Sinclair, Chair of Mid and East Antrim PCSP added: "Mid and East Antrim PCSP are delighted to be supporting the new NEXUS NI video which will be used to raise the profile of their services and raise awareness of this important issue. This video has the potential to support hundreds of victims of sexual violence to come forward and seek help.
"Breaking the silence on sexual violence is a huge task and only working in partnership with individuals, groups and key agencies can we help start conversations, break down barriers and remove the stigma which prevents victims from coming forward and seeking help."
NEXUS NI have offices across Northern Ireland. If you need to speak to someone you can contact the 24 hour Domestic and Sexual Violence Helpline on:

T: 0808 802 1414
E: 24hrsupport@dvhelpline.org
Or text:
M: 07797805839.
For more information go to ur PCSP pages.