Car Parking

As of the 1 July 2023, we no longer offer parking for up to five hours for just £1.
Enforcement action against vehicles found to be parked in contravention of parking restrictions will be carried out by CPS Ltd traffic attendants.
Council's Car Park Management:
Car Park Services Ltd
36 Great Patrick Street
Belfast
BT1 2LT
Enquiry line T: 028 9023 0767
Cashless Parking Provider Change
Council has a Cashless Parking provider: JustPark.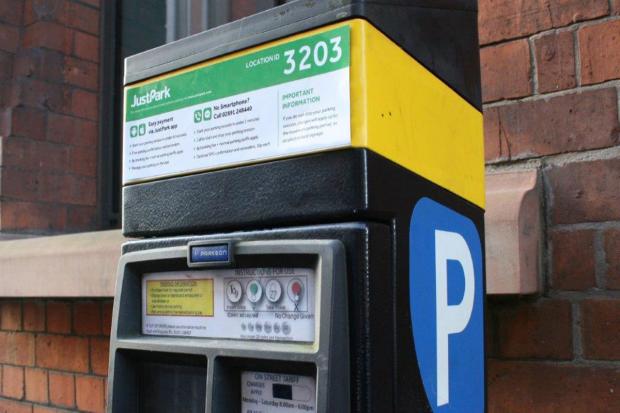 Season Tickets
Season tickets can be purchased Monday to Friday from 9am to 5pm on T: 028 9023 0767 or by e: info@carparkservices.com.
Appealing a Penalty Charge Notice
To appeal a penalty charge notice please visit the Car Park Services website.
Paying for a Penalty Charge Notice
When paying a Penalty charge Notice you will need your vehicle registration number and your reference number beginning MEA.
Payment car be made via one of the following methods:
Telephone the 24/7 automated line T: 028 9590 7942 alternatively post a cheque or postal order made payable to Car Park Services Ltd, 36 Great Patrick Street, Belfast BT1 2LT.
No cash should be sent by post.
Please quote the notice number and the vehicle registration on the back of the cheque or postal order. If a receipt is required please supply a stamped addressed envelope.
It is your responsibility to make sure that the cheque or postal order arrives on time before the charges increase and to retain any proof of postage.
Please note that paying for a notice is deemed an admission of liability, and you will no longer be entitled to appeal the notice.
For further information on Penalty Charge Notices please see the frequently asked questions at on the Car Park Services website.
Residents and businesses advised of changes to car parking charges in Mid and East Antrim
Residents, visitors and businesses in Mid and East Antrim are being advised of changes to car parking charges in the Borough – the first in eight years.
As of 1 July 2023, the cost of parking in Council-run car parks which currently have a charge in place within Ballymena, Larne and Carrickfergus will be 60p per hour. This will ensure a standardised and consistent approach across the three main towns within the Borough
These include Council parking facilities in Larne at Agnew Street, Circular Road West, Fairhill, Narrow Gauge Road, Riverdale, in Carrickfergus at Joymount, High Street and Lancasterian Street, and in Ballymena at Harryville, Ballymoney Road, Broughshane Street 1, Church Street 1, Church Street 2 and Church Street 3.
The changes will also see an increase to 70p per hour for the multi-storey car park in Ballymena which has undergone significant investment to enhance its use and secure its long-term viability. This has included approximately £600,000 of investment to install new modern software, improve energy efficiency of lighting, upgraded lift and works to ensure the structural integrity through the installation of a new waterproof coating to the upper surfaces.
In addition, Council intend to introduce charges to a number of car parks within the town core which were previously free to use. These include in Ballymena at Mount Street 1, Mount Street 2 and Broughshane Street 2, and in Larne at Exchange Road and Circular Road East. In accordance with the legislation, a 21-day consultation period is available to make comments for consideration.
The new pricing structure marks the first time tariffs have been increased by the Council since 2015 and come in response to soaring cost of living pressures.
A Council spokesperson said: "We believe that despite the increases, the new car parking charges are reasonable and competitive in comparison to other privately operated car parks and other towns, and the income generated will be used to mitigate the rate rises across the Borough and help ensure the car parks are maintained to the standard expected by the users.
"Council will continue to work closely with our town centre traders and business leaders to do all we can to support, promote and grow our economy and ensure the very best services, facilities and infrastructure for our citizens.
"We thank our car park users for their understanding and we will work hard to minimise any disruption over the coming weeks."
As well as Council's paid-for car parks, a large number of free parking facilities remain open across the Borough and within close proximity of the town centres. Details of these can be found on Council's website.
In addition all carparks, with the exception of the multi-storey carpark in Ballymena, remain free of charge on Sundays.