Autism Friendly

Autism NI have awarded Mid and East Antrim Borough Council the prestigious 'Autism Impact Award' in recognition of the Council venues going 'above and beyond' to create accessible and 'autism-friendly' environments.
Autism Events Pre-visit Guides Jam Card Become an Autism Friendly Business
The Autism Impact Award recognises organisations who excel in creating a more autism friendly environment for their customers.
Through attaining an Impact Award, organisations can confidently open up their facilities and services to the 30,000 individuals and families living with Autism in Northern Ireland that previously may have been excluded. This award equips organisations to better understand any staff and customers who may have Autism and allows them to adapt their organisation's environment to support this.
The Impact Award includes staff training and support to implement a range of adjustments to improve accessibility.
Please see below the venues which achieved the Awards:
Carrickfergus Ampitheatre
Larne Leisure Centre
Seven Towers Leisure Centre
Carnfunnock Country Park
The Gobbins
The People's Park
---
Austim Friendly events
Autism Information Roadshows coming to a town near you:
In partnership with the Northern Health & Social Care Trust, we are hosting a number of Autism Information Roadshows over the next few months.
The Roadshows will bring together key organisations and support services such as Autism NI, Disability Action, NOW Group, NIHE and Children's Law Centre to provide a range of useful information to autistic individuals and their families.
The Roadshows are just one part of a bigger initiative, working towards creating an Autism Friendly Borough.
This initiative is an action under the Health & Wellbeing theme of 'Putting People First' - Mid and East Antrim's Community Plan, which has a vision to work towards becoming a strong, vibrant, safe and inclusive community, where people work together to improve the quality of life for all.
Community Planning Partners are working to create a fully inclusive environment, raising awareness and understanding, creating opportunities for autistic individuals and their families to feel welcome, and offering open access to services and activities.
The Roadshows are taking place on the following dates:
Town Hall, Carrickfergus
Tuesday 31 January 2023
6pm to 9pm
Harryville Community Centre, Ballymena
Friday 17 February 2023
2pm to 5pm
Market Yard, Larne
Saturday 25 March 2023
2pm to 5pm
We are fortunate to be able to offer a Wellness Session for parents at the Carrickfergus roadshow delivered by The Sunshine Project, and specialised play sessions delivered by Sensory Kids at our Ballymena and Larne events.
Alongside our roadshows, The Braid in Ballymena will be the venue between 16 March – 15 April 2023 for a touring exhibition entitled 'Creative Voices: What Autism Means to Me'.
This free exhibition showcases over one hundred pieces of art work created by autistic post primary pupils from across Northern Ireland.. It is being toured by the Education Authority Autism Advisory and Intervention Service (AAIS). For further details e: braidmuseum@midandeastantrim.gov.uk
We are proud to host these partnership events and we hope that you find them enjoyable and informative.
---
Pre-visit Guides
These guides will help visitors get ready for their trip. They will tell you how to get to and enter the sites, explain how to find your way around, show you some of the things that you can do when you visit and some will also introduce you to some of the staff who work there.
More guides will be added as they become available and will be updated to match any changes at the various locations.
Carrickfergus Amphitheatre
Larne Leisure Centre
Seven Towers Leisure Centre
Carnfunnock Country Park - Day Visit
Carnfunnock Country Park - Overnight Visit
The Gobbins Visitor Centre & Cliffpath
The People's Park
---
Jam Card
We are delighted to share news of our ongoing work to make Mid and East Antrim an Autism Friendly place to live, work or visit. In partnership with Northern Health and Social Care Trust, we have been working to improve the autism accessibility of our services.
Autism is lifelong and affects the development of social and communication skills. It can affect the way an individual relates to people, situations and the environment
A person with Autism will have difficulty processing everyday sensory information like sight, smell, touch, taste and sounds
In Northern Ireland, 1 in 21 children have a diagnosis of autism (Autism NI Statistics)
Through the Autism NI Impact Award programme, a number of staff from Leisure, Parks and Open Spaces and The Gobbins have completed Autism Champion training. This training has given them a greater understanding of Autism and how by making adaptations, we can better support the Autism community. Work is well underway to make our leisure centres, visitor attractions and public spaces more inclusive to the additional needs of autistic children and adults. From a day out to the park, to arranging a swim, theatre visit or guided tour, we want autistic people, their families or carers to experience a welcoming and enjoyable visit.
As part of this, we have committed to becoming a JAM Card Friendly Organisation. This initiative is another positive step in the right direction in our journey to become an Autism Friendly Borough. JAM (Just A Minute) Card was originally developed for those with learning disabilities and difficulties. However, it can be used by anyone with a communication barrier including people with Autism or Asperger's. It can also be used by those who have a brain injury, dementia and people who may feel self-conscious about their ability to effectively communicate when engaging with others.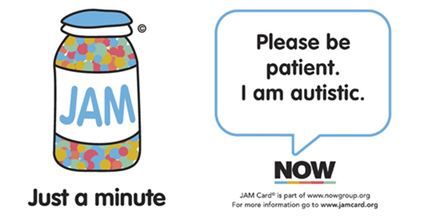 ---
Top Tips to becoming an Autism Friendly Business
Mid and East Antrim is an Autism Friendly Borough. We believe that having a better understanding of autism is essential to make our services more accessible for everyone and creating a more inclusive community.
Our Autism Friendly initiative, being delivered in partnership with the Northern Health & Social Care Trust, has developed a Top Tips leaflet to help all services and retail in the Borough become more Autism Friendly.
Key considerations to becoming an autism friendly organisation:
Understand as much as you can about autism - a good way is to join our free "Becoming Autism Friendly" Workshops. Contact us to book a session!
Styles of communication are a fundamental part of engaging with the autistic community
Try presenting your information in different formats such as using visuals and pictures, videos and audio to complement the written text
Enable on line information to be downloaded and/or printed
When communicating with an individual keep your language clear and concise
Allow for additional time - when interacting with an autistic person it is helpful to give them time to talk, to process information and to respond
Many autistic people will experience anxiety, which will often impact their quality of life. By providing advance information, autistic visitors can prepare before their visit, which will manage their expectations, reduce anxiety and help with planning their visit. Even if you don't have a venue, providing information on line or via social media about what people can expect can help to reduce anxiety
The environment is important - some autistic people are particularly sensitive to light, movement, sounds, smell and touch. Try to keep the immediate environment as calm as possible to help alleviate any anxiety. If this is not possible consider providing a quiet space, or scheduling quiet times to accommodate autistic individuals. Alternatively, introducing the use of sensory packs for customer use can help an individual to self-regulate
A key concern for the autistic community if the need to make last minute changes to appointments and are at times penalised for missing appointments in circumstances that could not be avoided. Consider your policies around this to see if they could be amended to incorporate exceptions for these circumstances
Consider the provision of training to support staff further eg JAM Card (NOW Group), Autism NI Impact Award or National Autistic Society
For additional information on our free training sessions contact:
Fiona Surgenor
E: Fiona.Surgenor@midandeastantrim.gov.uk
Jayne Colville
E: jayne.colville@northerntrust.hscni.net
Other support organisations -
Autism NI
T: 028 9040 1729
Now Group
T: 028 9043 6400
National Autistic Society
T: 028 9068 7066
Autism Initiatives
T: 028 9069 9130